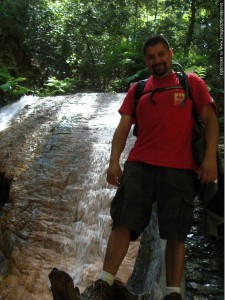 In my own words
From a small boy, I have always been fascinated by electricity. It started with plugging something into the wall to being shocked a few times, all before 10 years old. My first hobbies were the electronic design of alarm systems, model rockets with AM (amplitude modulation) tracking signal transmitter and a hand held radio for tracking purposes. I created my own local radio station, where I built an FM (frequency modulation) transmitter to play music for my family and neighbors to listen to. When the Commodore 64 came out, I wanted to design video games. Truth be known, I mostly played them. As the years passed, I got involved in sports, graduated from school, and went on to the working world.
My parents taught my brothers and I to have a strong work ethic. Growing up, we spent most of our summers involved in the family ranch, picking fruits and vegetables. During the school year, we would be immersed in school activities. My parents supported my need for learning and the activities I liked-baseball, skateboarding, and electronics. Electronics has always been my interest, first and foremost. I would ride my bike to Radio Shack, where I would look at things I wanted. For Christmas, I would get electronic lab kits. I liked rocketry as well and would incorporate my electronics with my model rockets.
When the Commodore 64 came out it was all I could think about. So when my parents bought it for us boys we were really excited. I had always had the Atari 2600, IntelliVision, and the ColecoVision so video games is what I was fascinated with. So naturally when the Commodore came out video game design was what I wanted to do. I started by doing homework with my computer then actually had to do a school project where I used my computer. Where most kids brought in the solar system with clothes hangar wires, Styrofoam balls, and some paint, I did it on my computer. I used a graphical design software and drew each planet. The software interpolated the drawing and kicked out the proper data strings to incorporate the graphic into my own program. I also used a program called SAM Speech's and had dialog behind my graphical program. I have always said I may have very well been the first on to multitask the commodore 64. I had to add memory to it because it could not run the program without SAM sounding like he was drunk and the earth would stop rotating. I took an old 64 and ripped out all of the memory, I then piggy backed them onto my working 64 effectively giving my machine twice the memory and running my program more effectively.
After High School my first job was at an electrical company. I was very lucky to get in at an early age but the interview I had went well. I can only contribute this to my Father as he would have my brothers and I wire homes the he had purchased that needed major help. So just knowing the basic color codes got me the job. After about 6 months of residential wiring I was promoted to a commercial electrician. Where I would wire stores and restaurants. A few months after that I was promoted to an Industrial electrician. Shortly after I had my own truck and was running my own industrial jobs at 20 years old. During this time I was running conduits, pulling wire, and wiring controls including PLC's. My Father who was also into the industry told me "Son whenever you are done running conduit and pulling wire come and talk to me". Well I did. He gave me the tools that have led me where I am today.
As my skills grew I left the electrical company and went to work for a cheese company. I was on probation for 90 days where I was evaluated. After the 90 days I was fully expecting to go to graveyard at the beginning of working at a union shop. Well I was immediately promoted to an "A" mechanic with top pay and it landed myself on dayshift. I was the lead electrician and got involved in the boiler room. I soon was the lead boiler operator and then the programmer of the site. As I was the lead boiler operator I was asked to help find a solution to meet emission requirements that the state of California had just recently adopted into law. We selected and engineering company who was able to reduce NOx (Nitric Oxide) by a minor mechanical modification adopted by the automotive industry. This coupled with the fact that a PLC did the metering to properly provide combustion, I felt that this was something that I was able to service. The other alternative left me with a Low NOx burner that I just did not understand at the time because I had not the combustion experience.
A few years later I went on to work for the engineering company that did the project at the cheese company I was employed at. I had worked there for 17 years where then I decided to start my own business. During my tenure at the engineering company I became very fluent in combustion controls. I became the Vice President of the company and was responsible for all controls. As I developed many different combustion control systems as well as emission monitoring systems. I immersed myself with NFPA rule 85. I have developed multi-burner, multi-fuel, and multi fan control systems all that are NFPA 85 compliant. I have developed logic, drawings, and as well stared up boilers from 300 HP fire tube boiler to a 180 Mega Watt power plant.
Here are just a few companies I have worked at and developed logic for.
British Petroleum (Global)
University of Texas Austin
Texas A&M College Station
University of Berkeley
Applied Energy Services (AES) Redondo Beach
Bangor Naval Nuclear Submarine Station
Miller Brewing Company
Con Agra Foods
Del Monte Foods
Pacific Coast Producers
Enwave (Global)
Atlantic Power
US Steel (Portside Indiana)
State of California (Atascadero State Hospital & Sonoma Developmental Center)
Sempra Energy
I hope this inside helps you get to know me and my work ethic. I feel I have come a long way in my work career. I have references of my work and I hope to help you.